Ether (Equality)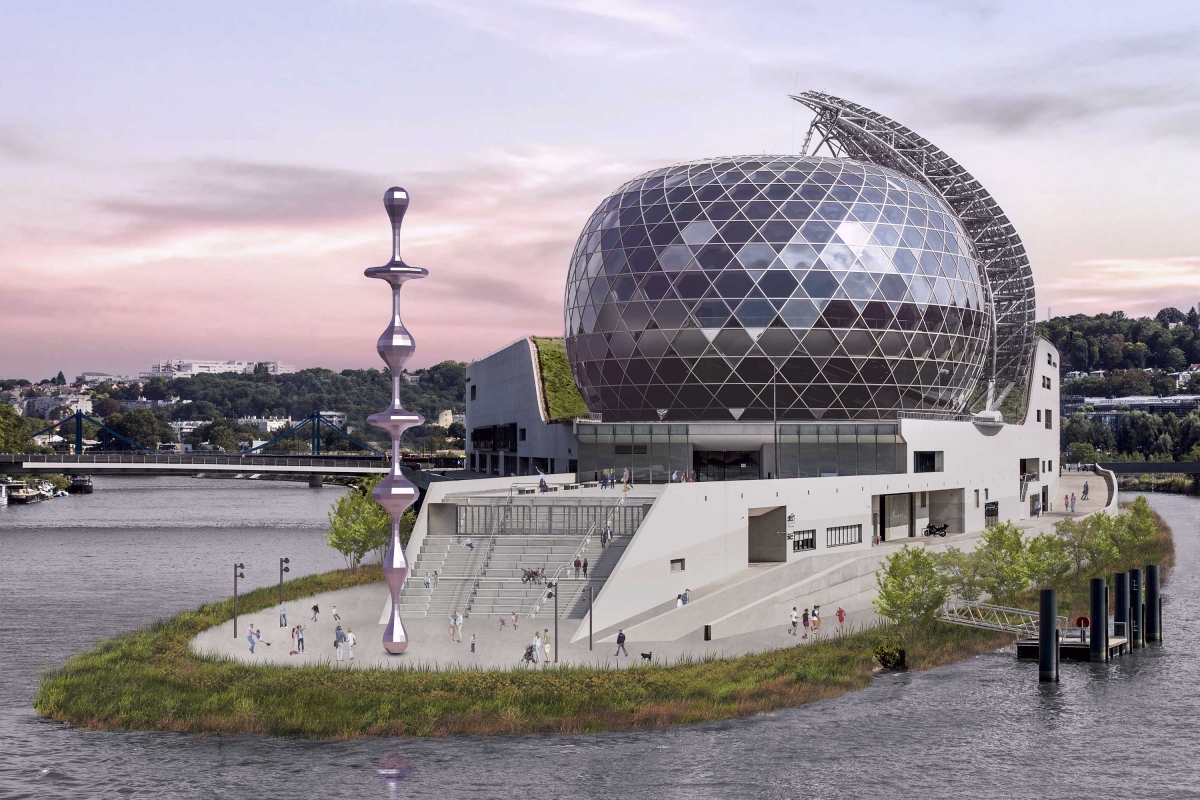 Kohei Nawa's new large-scale sculpture to be unveiled on the Seine River in France on June 28, 2023
A 25-METER-TALL SCULPTURE STANDING IN A NEW CULTURAL CENTER OF FRANCE
On June 28, 2023, sculptor Kohei Nawa's 25-meter-tall public sculpture Ether (Equality) will be unveiled on the Seguin Island on France's Seine River. Nawa, who partnered with the digital art platform DANAE.IO for this project, was selected to create Ether (Equality) in an international competition organized by the Hauts-de-Seine department centered on the theme of égalité (equality).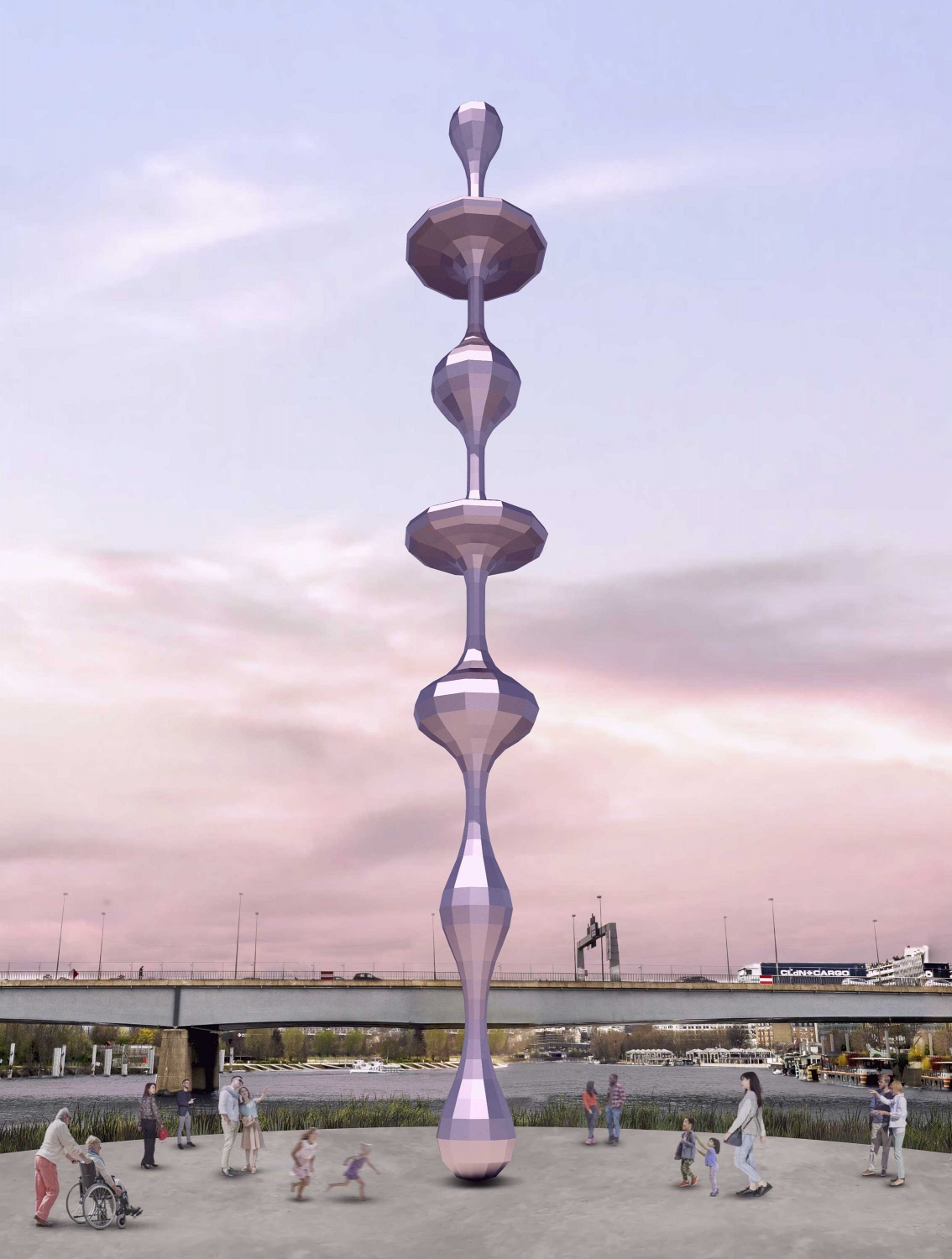 A NEW LONG-AWAITED SYMBOL OF THE SEINE IS FACING ITS COMPLETION AFTER CORONA PANDEMIC.

As a new cultural center of France, Seguin Island is undergoing a major redevelopment project with world-renowned architects Jean Nouvel and Shigeru Ban. As a part of the project, the Hauts de Seine department decided to install a large monumental work and held an international competition in 2019 on the theme of "égalité" (equality). The competition called for a work that would respond to France's Pont de Grenelle Statue of Liberty; La Seine Musicale, the music and performing arts complex on Seguin; and various historic sculptures situated along the surrounding riverbanks.
Nawa teamed up with DANAE.IO, a French digital art leader, to propose Ether (Equality). His works was selected out of 35 proposals from all over the world. After overcoming the rigorous planning and production process in the midst of the COVID-19 pandemic, the project is now nearing completion on June 28, 2023.
RHYTHM AND HARMONY CREATED BY THE SHAPE OF THE DROP
25 meters tall, Ether (Equality) is one of Nawa's largest sculptures. The stainless steel sculpture, glowing in a pale silver pink, is composed of polyhedrons, echoing the polyhedral dome of La Seine Musicale behind it and rises like a beacon leading the way to Seguin Island and its future.
Ether (Equality) is formed by extracting the form of a droplet dripping to the ground, inverting it upside down, and piling it up in a random sequence. The continuous drops of various shapes create a visual rhythm that echoes through the Seine River and spreads it further to the world. Gravity and harmony perform together and come into interplay with Earth.
SCULPTOR KOHEI NAWA, WHO IS BUILDING THE BUILDING THE BRIDGE BETWEEN FRANCE AND JAPAN
Based in Kyoto, Nawa has been developing his global activities, and among them, he has established a deep relationship with France.
At "Japonismes 2018" a festival commemorating the 160th anniversary of Japan-France friendship, he presented Throne - a large 10.4 meter-high sculpture decorated with gold leaf inside the Louvre's pyramid, and Foam - an installation using bubbles in the Rothschild Pavilion, as well as a solo exhibition "PixCell- Deer" at the Museum of Hunting and Nature. This was preceded by The Centre Pompidou-Metz' exhibition "Japanorama: A new vision on art since 1970," in 2017, curated by Yuko Hasegawa, in which Nawa presented Force - an installation of a black silicon oil pouring down from the ceiling. Vessel (nominated for the 2020 Lawrence Olivier Awards) and Planet [wanderer], two performance pieces created in collaboration with choreographer Damien Jalet, have been performed at the Théâtre National de Chaillot in Paris, the Opéra de Rouen Normandie in Rouen, and other venues around the world. Nawa has also collaborated with fashion brands - COMME des GARÇONS for the 2012SS and ANREALAGE for the 2017AW to produce showpieces for the Paris collections, connecting French culture and art with Japan.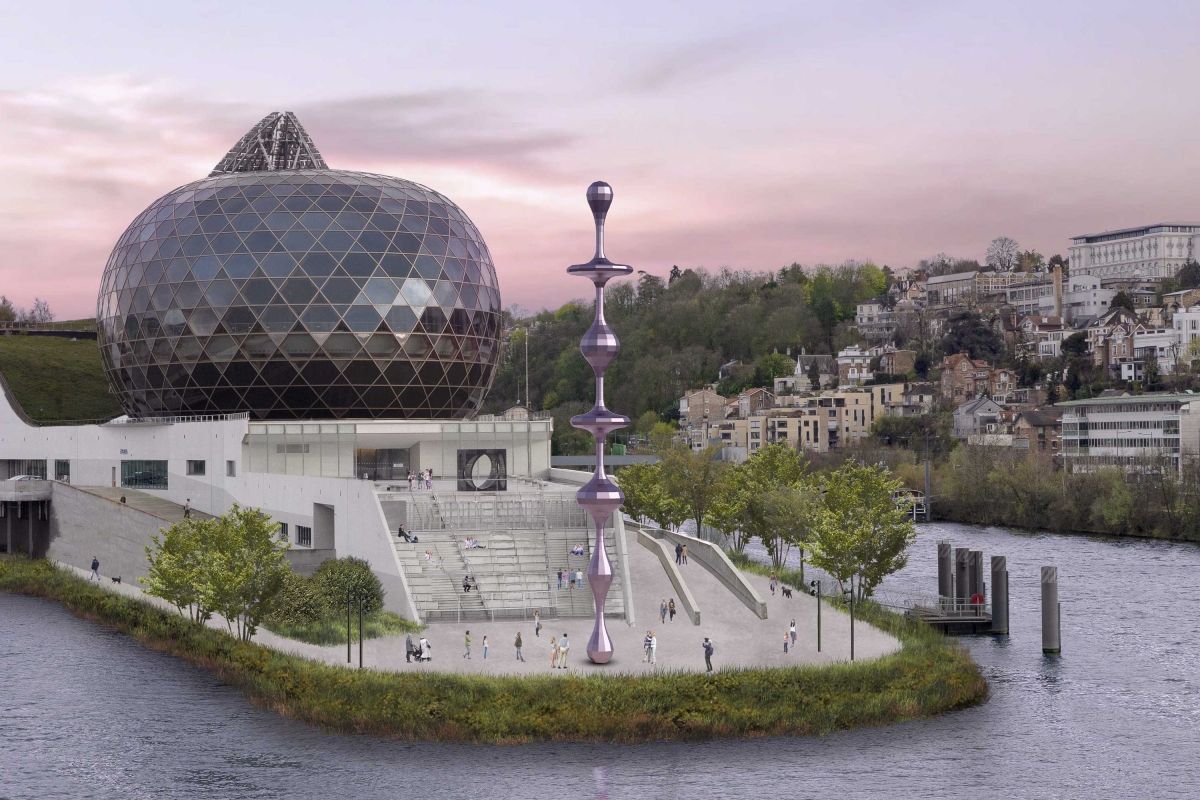 SEGUIN ISLAND, THE SYMBOL OF FRENCH MODERNIZATION
The theme of "égalité" (equality) appears even more vividly when we look at the history of the Seguin Island, where the sculpture is located.
The Seine River is one of the symbols of Paris. Seguin Island is located slightly downstream from the Notre Dame Cathedral and the Eiffel Tower, both of which are part of a World Heritage site. Since the chemist Armand Seguin, from whom it takes its name, established a tanning factory there at the end of the 18th century, it has flourished as the industrial center of the Seine region. When a large automobile plant was built in 1929, it became a symbol of France's modernization and industrial development. The plant has been the target of criticism for its strict labor standards and environmental pollution, but it has also been used as a base for radical labor unions, and its meaning has been constantly reinterpreted. The plant was heavily bombed during World War II, entailed many casualties, and was then engulfed by the wave of technological innovation after the war, leading to its demolition in 1992.
In 2009, a redevelopment plan was launched with Jean Nouvel as director to revive Seguin Island as a cultural center. This was a large-scale plan that included an art center and office and commercial facilities. In 2017, La Seine Musicale, a comprehensive music facility, was completed and designed by Shigeru Ban, one of Japan's leading architects.
KOHEI NAWA
Sculptor / Professor at Kyoto University of the Arts. Born in 1975, Nawa graduated from Kyoto City University of Arts in 2003 with a doctorate in sculpture, and founded "Sandwich" in Fushimi, Kyoto in 2009.
Nawa is a sculptor based in Kyoto, Japan, who has consistently presented numerous series of genre-crossing works, focusing on the "surface skin" of sculpture under his unique concept of "cell". In the past, he has reinterpreted the definition of sculpture in such works as PixCell, where he covers motifs with transparent glass spheres of various sizes to reflect on The Information Age, Direction, a gravity-based painting, and Force, in which silicone oil cascades down to the ground. In recent years, he has been actively engaged in architectural projects such as Kohtei - an art pavilion in Hiroshima, as well as a series of performance works in collaboration with Belgian choreographer Damien Jalet.
CREDITS:
Ether (Equality)
2023, Stainless steel, paint, 25 × 3.5 × 3.5 m
©Kohei Nawa | Sandwich Inc., Courtesy of SCAI THE BATHHOUSE and Pace Gallery
Installation view: Seguin Island, Boulogne-Billancourt, France
Photo: Emmanuelle Blanc
FOR INQUIRIES:
Sandwich Inc.
45-1, Fujinoki-cho, Mukaijima, Fushimi-ku, Kyoto 612-8132 JAPAN
TEL: +81 75-468-8211  Email: office@sandwich-cpca.net
Person-in-charge: Leisan Shakirova